Our Mission
Bard's Graduate Programs in Sustainability cultivate leaders who break through existing systems, innovating solutions to critical social, environmental and economic challenges. We accomplish this through:
An MBA in Sustainability offering a globally leading business curriculum that integrates sustainability vision, real world consulting engagements, organizational transformation and entrepreneurial training, equipping graduates who are changing the game.
MS in Environmental Policy and MS in Climate Science and Policy programs whose alumni are changing the rules. They are crafting science-based policies based on their interdisciplinary training including communication and stakeholder engagement, and required, high-level professional internships.
An M.Ed in Environmental Education, also internship-centered, that empowers our graduates to build and lead educational organizations changing minds. They bridge theory and practice to bring the lessons of ecological literacy and justice to a rising generation.
In this time of extraordinary environmental and social challenge, learn more about our three theories of change here. Through our work, we influence sustainability education and practice globally. We model the world we want to create by building a diverse, inclusive, and collaborative community committed to social, racial, and environmental justice and equity.
We Train Anti-Racist Leaders
Bard GPS Anti-Racism, Justice, Equity, Diversity, & Inclusion Commitment
We educate leaders to bring social and environmental justice to business, policy and education. Our curricular framework centers social justice in environmental contexts and extends the focus of sustainability to human and social processes. To fulfill this commitment, Bard GPS must be an actively anti-racist program that supports racial, social, and gender equality. We demonstrate this leadership from within to ensure:
An environment that questions white supremacy, centering and making visible the experience of those most marginalized to support an inclusive learning experience
Our entire community is diverse in every definition of the term (race, gender, gender identity, sex, class, ability, language, phenotype and other tangible and intangible human characteristics)
Our curriculum acknowledges that the American economic and educational institutions have been built to uphold a white supremacist system that must be dismantled
Every member of the GPS community feels safe, included, and empowered to meet their educational and career goals.
This is the first step of our journey. In our curricula, we are primarily centering the work of black liberation scholars and addressing anti-black racism, with an awareness of the intersections of black identity (womxn, immigrants, LGBTQIA+, differently abled) and its ability to lead to the liberation of ALL people. As we move forward, we acknowledge the privilege held by Bard GPS—graduate programs within a private, predominantly white institution (PWI) operating on unceded land.
In 2021, Bard GPS worked with consultants Lauren Hill, MBA '18 and Martin Freeman, MBA '18 to develop the Bard GPS Anti-Racism & Justice, Equity, Diversity, & Inclusion (JEDI) Roadmap that will guide the programs on their journey to meeting the above commitment. This framework is open-source. For any use, please include the following acknowledgement: Bard GPS Anti-Racism & JEDI Roadmap, March 2021. Developed by Lauren Hill and Martin Freeman.
Bard GPS Anti-Racism & Justice, Equity, Diversity, & Inclusion (JEDI) Roadmap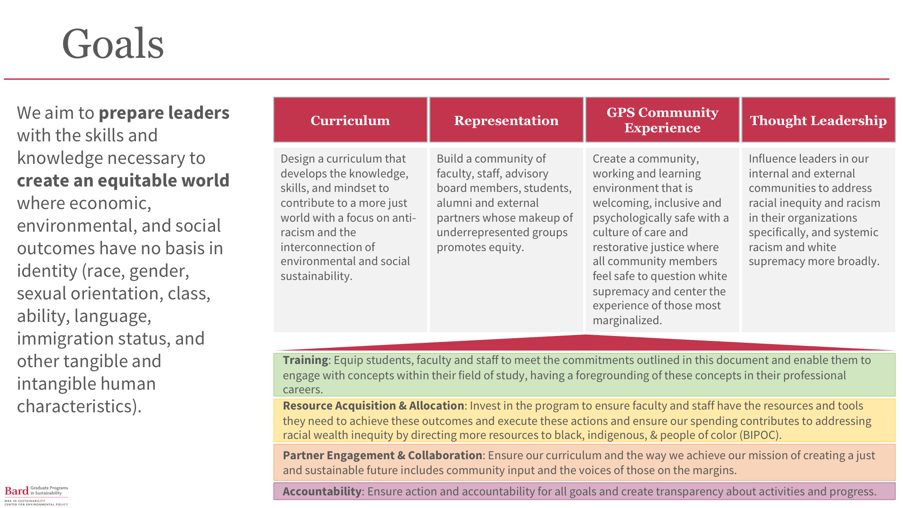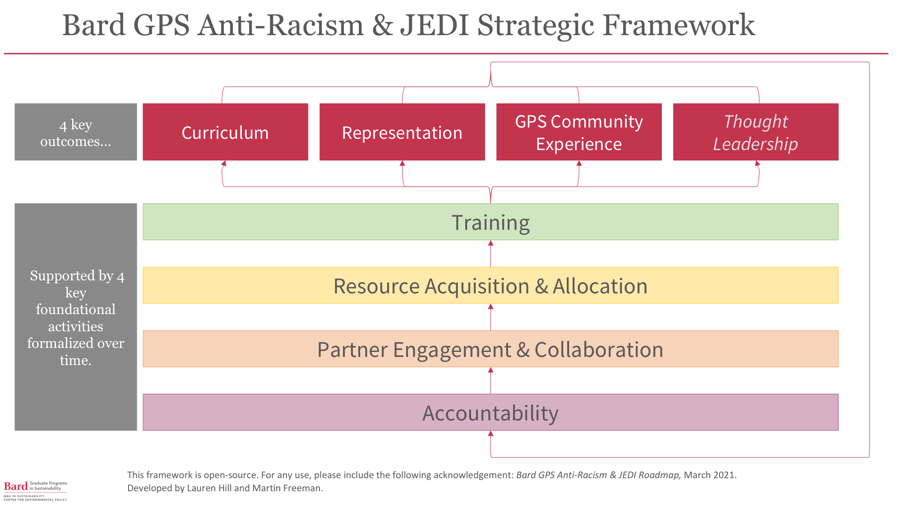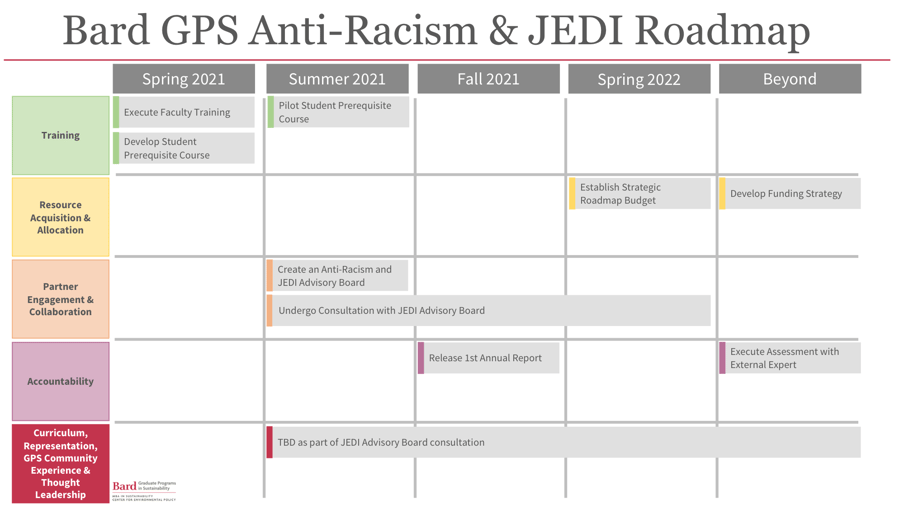 *This framework is open-source. For any use, please include the following acknowledgement: Bard GPS Anti-Racism & JEDI Roadmap, March 2021. Developed by Lauren Hill and Martin Freeman.
Land Acknowledgement
Developed in Cooperation with the Stockbridge-Munsee Community
In the spirit of truth and equity, it is with gratitude and humility that we acknowledge that we are gathered [at Bard College's Annandale-on-Hudson campus] on the sacred homelands of the Munsee and Muhheaconneok people, who are the original stewards of this land. Today, due to forced removal, the community resides in Northeast Wisconsin and is known as the Stockbridge-Munsee Community. We honor and pay respect to their ancestors past and present, as well as to Future generations and we recognize their continuing presence in their homelands. We understand that our acknowledgement requires those of us who are settlers to recognize our own place in and responsibilities towards addressing inequity, and that this ongoing and challenging work requires that we commit to real engagement with the Munsee and Mohican communities to build an inclusive and equitable space for all.

Please see this note from the Dean of the College on Bard's Land Acknowledgement that outlines the engagement and funding Bard College is putting towards working with the Munsee and Mohican communities.
The Bard MBA in Sustainability program, based in Brooklyn, New York, acknowledges that it is operating on unceded Lenape land.
SLAVERY ACKNOWLEDGMENT
The College acknowledges that its origins are intertwined with slavery, which has shaped the United States and American institutions from the beginning. Starting in the 16th century, European traders trafficked approximately 12 million Africans to the Americas, where they were held as property and forced to work as enslaved laborers. Their descendants were also held as slaves in perpetuity. The exploitation of enslaved people was at the foundation of the economic development of New York and the Hudson Valley, including the land now composing the Bard College campus. In the early 18th century, Barent Van Benthuysen purchased most of this land and was a slave owner. Later owners of the property also relied on Black workers they held in bondage for material gain. Montgomery Place, which became part of the College in 2016, was a working farm during the 19th century that likewise profited from the labor of enslaved people.

The founders of Bard College, John Bard (1819–99) and Margaret Johnston Bard (1825–75) inherited wealth from their families and used it to found the College. That inheritance was implicated in slavery on both sides. John's grandfather Samuel Bard (1742–1821) owned slaves. His father William Bard (1778–1853) was the first president of the New York Life Insurance Company, which insured enslaved people as property. Margaret's fortune derived from her father's commercial firm, Boorman and Johnston, which traded in tobacco, sugar, and cotton produced by enslaved labor throughout the Atlantic World. Other early benefactors of the College, such as John Lloyd Aspinwall (1816–73), also derived a significant proportion of their wealth, which they donated to the College, from commercial ventures that depended on slavery. John and Margaret Bard devoted their lives and monies to educational pursuits. In his retirement John Aspinwall redirected his fortune and energies toward humanitarian pursuits.

Recognition and redress of this history are due. As students, teachers, researchers, administrators, staff, and community members, we acknowledge the pervasive legacy of slavery and commit ourselves to the pursuit of equity and restorative justice for the descendants of enslaved people within the Bard community.
Sustainability + Footprint Report
Beyond the content of our curricula, Bard's Graduate Programs in Sustainability have a deep operational commitment to building a sustainable future where all can thrive. Read more about the work of our partner, the Bard College Office of Sustainability, here.
The Bard MBA in Sustainability program's Footprint Committee is a student-led committee that develops an annual rigorous greenhouse gas report. The program administration uses this report to purchase carbon offsets to ensure the program's carbon neutrality. Each year, students are charged a student-approved carbon-offset fee to help achieve this goal.
Want to learn more? Let's chat!
We love to chat one-on-one with aspiring change-agents. Our team is happy to schedule a call to discuss your sustainability career goals and tell you more about our various programs. We can also get you connected with an alum, professor, or student doing work you are interested in learning more about.