The Biggest Threat To Our Future
Thinking that someone else will lead, that someone else will solve the climate crisis.
---
Now, not next next month, not next year, we all need to step up.
You are here because you are deeply concerned about climate change and our future. For three years we have helped educators, students, faith leaders, and community members to bring the WORLDWIDE Teach-In on Climate and Justice to hundreds of Universities, Colleges, High Schools, K-8 Schools, and Faith Communities in more than fifty countries. This work is bringing hope in communities across the globe. There are over 200 events scheduled from 3.29.2023 through Earth Day.
Our Intro and Outro videos are ready to kick-off your Teach-In!
Be sure to play these at the start and end of your #ThreeHourTeach-In, #MakeClimateAClass, or other #WorldWideTeach-In!
There is still time to get an event planned before Earth day!
Pledge to host a Teach-In, Plan using our models, Plant hope in our communities,
join the movement to save our future.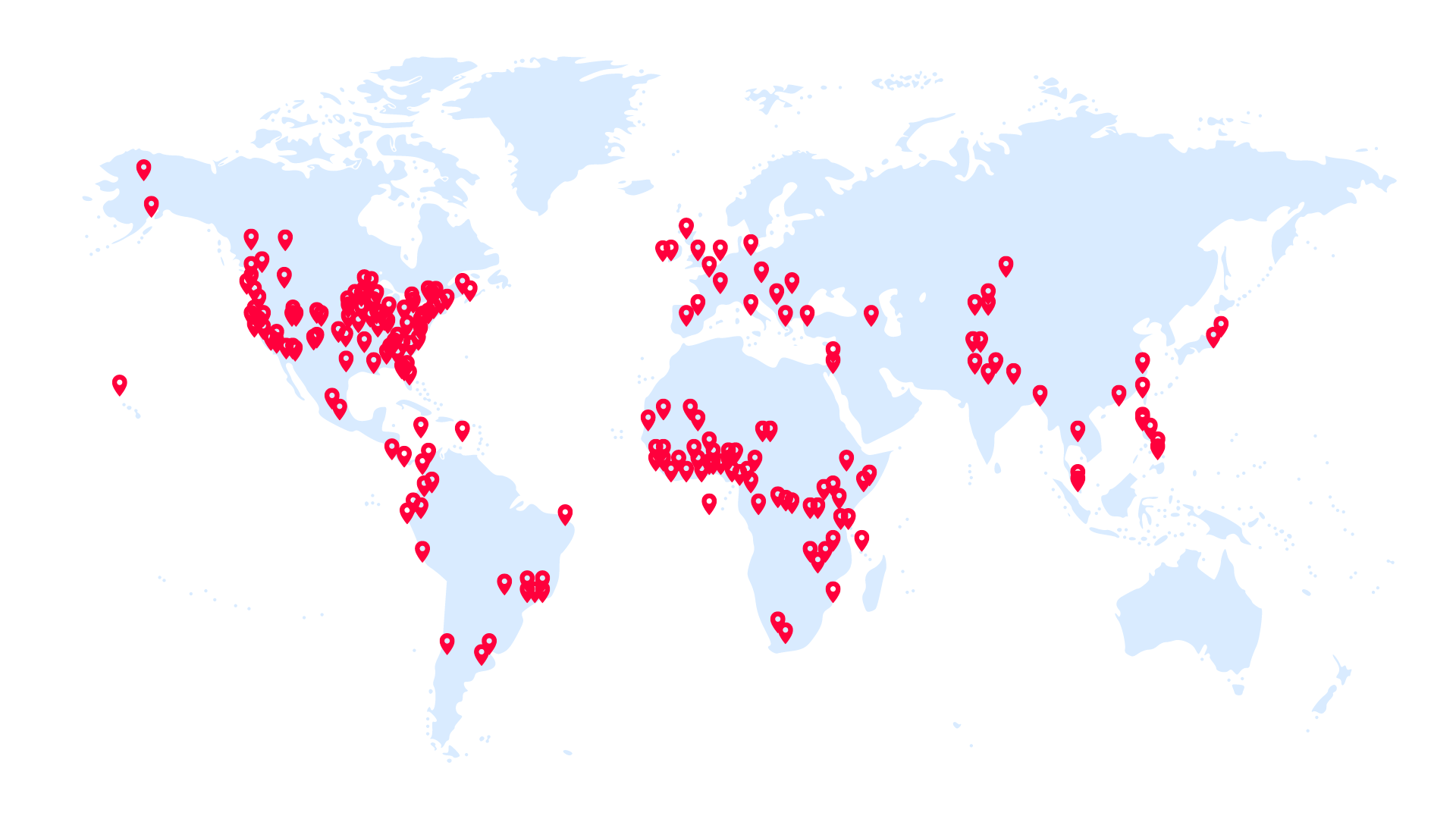 Attend a Teach-In
With over 250 events scheduled from 3.29.2023 through Earth Day, now is the perfect time to consider attending other groups events! Use the map to view events near you, and find virtual ones! Try to attend at least 1 event aside from your own. Get inspired, support the global movement, and learn some tricks for next year!
Thank you to all our hosts:
Kiptewit Boys High School
Bard College
Drew University, NJ
The Wei LLC
American University in Bulgaria
Prescott College
SubjectToClimate
Rock Hill Virtual Academy High School
Macalester College
University of California, Santa Cruz -- The Climate Coalition
Neumann University, Aston, PA
Radford University
Penn State Erie, The Behrend College
University of South Dakota
Yorba Linda Middle School
Tevfik Sırrı Gür Anadolu Lisesi
Colorado Rocky Mountain School
Tarlac Agricultural University
Allegheny College
Universidad de Los Andes
Rowan University Department of Music
Deree-The American College of Greece
Cal Poly Humboldt
Westminster College
University of Hartford
William & Mary
Museum of the White Mountains, Plymouth State University
Wisconsin Energy Institute
University of Rhode Island
Fairfield University
Universidad de Cartagena
Massachusetts College of Art and Design
Write the World
American University
University of Wisconsin-Stevens Point
American University of Central Asia
Ecossistema Ânima
Centro Universitário UNA
Environmental Sciences & Studies Department, Stonehill College
Pima Community College
University of the Philippines Open University
Weber State University
Drew University
Institute for Sustainability, Energy, and Environment
Captain Polo Climate Academy
Mount Saint Mary College
African Network of Young Leaders for Peace and Sustainable Development
University of Central Asia
Innovate.Educate.Inspire (IEI) and AbadTak
African Network of Young Leaders for Peace and Ssutainable Development
Kyrgyz-Turkish Manas University
Central European University
Ramapo College
Northern Arizona University
Vrije Universiteit Brussel
Augustana University
University of Redlands
UNU-RCE Hawai'i Moananuikea / Hawai'i Institute for Human Rights
University of Utah
Central Oregon Community College
Department of Architecture, Brac University
Lilian J. Rice Elementary
GMD Training and Consultancy Services Ltd.
FLACSO ECUADOR
Global Environmental Sustainability Action Coalition & CCSU Geography Department
Puntarenas Scientific High School
Leiden University College
Xavier University of Louisiana
Indiana University-Bloomington, Integrated Program in the Environment
Elmira College
National Sun Yat-sen University
Framingham State University
Escola Estadual Emília Esteves Marques
The Climate Reality Project_Brasil
University of Kansas
Green Africa Hope Organisation
Roanoke College RC Sustain
Gallaudet University
American University of Central Asia
Southern Illinois University Carbondale
University of the Philippines Open
African Network of Young Leaders for Peace and Sustainable Development
Shippensburg University
University of New England
UNISC International
Green Actioneers
PS 175 - City Island School
National Sun Yat-sen University
Universidad de Antioquia
Temple University Office of Sustainability
Al-Quds Bard College
Universidad Loyola/ Fundación ETEA
Worldwide Teach-In for Climate PH
Essca school of management
Universidade Federal do Tocantins
Universidad San Francisco de Quito
Universidad EAFIT
vcuarts|fashion
Witten/Herdecke University
community/Climate>Duluth/World Climate School
St. Edward's University
UNIVERSITY OF ANTIQUE-TLMC
Rosemont College Business Department
QED Club
Birkbeck College University of London
University of South Florida - Judy Genshaft Honors College
Salve Regina University
VUB Chair of Social Entrepreneurship
Eco El Paso
University of Waterloo
UCAR Center for Science Education
Earth Guardians Sierra Leone
Brigham Young University
Household of Wisdom, Nigeria
Flat Rock MIddle
Association For Progressive African Youth AJAP-NIGERIA
University of British Columbia - Okanagan campus
HarvestHouse Christian Center
Alabama State University
Universidade Federal do Recôncavo Baiano
Centro de arte, educação, cultura, social e meio ambiente - Casa de Ensaio
Black Mountains College
LaGuardia High School
Montgomery County Department of Environmental Protection
Montgomery County Department of Environmental Protection
California State University San Marcos
Arab American University
The George Washington University
Siena Heights University
National Wildlife Federation
Dickinson College
University of Oklahoma
Folsom Educational Academy
NYC DOE
Gustavus Adolphus College
Crescent Schools, Lagos
UI INTERNATIONAL MODEL COLLEGE
Parami University
African Child College, Abuja Nigeria
Kaimosi girls high school, Kenya
Ngora Girls'Secondary school, Soroti City, Uganda
Rhemaville Christian Academy
Makalamabedi Secondary Schools, Botswana
Kabulonga Boys Secondary School, Zambia
Green Acres Secondary School, Dar es Salaam
Crescent Schools
Green Acres Secondary School, Tanzania
Kabulonga Boys Secondary School, Tanzania
Makalamabedi Secondary School Botswana
Rhemaville Christian Academy, Jos
Ngora Girls Secondary School, Uganda
Kaimosi Girls' High School, Kenya
Abesan Comprehensive Junior, Lagos
African Child College Abuja Nigeria
UI International Model College
Arizona State Univesity
SDSN México / UAM Azcapotzalco
Bard College Berlin
Institución Educativa julio Cesar Turbay Ayala
Kalamazoo College
Kuvuna Foundation DRC
Eureka Observatorio Ambiental
Universidad del Norte
Escola Adélia Crisóstomo
Climate Stories Project
Central Valley College Corps @ CSU Fresno
Christ Apostolic Church, Oke-Ayo (Hill of Joy) Iludun, Osogbo
University of Southern California
Kansas State University
University of Nebraska-Lincoln Environmental Studies Program
University
Fairfield University
Macalester College
California State University Dominguez Hills
The University of the West Indies
Carson-Newman University
IEI Pakistan and AbadTak
Universidad EARTH
University of New Brunswick
Government Model Secondary School, Nigeria
Loreto College, Mauritius
Anima Educação
Comunidad #PorElClima
Climate Coaching Allaince
S.C.R.A.P. Gallery
Osh American Corner
Roosevelt University
Escola quilombola Adélia Crisóstomo
Institute of American Indian Arts
University of Adelaide
Institute of American Indian Arts
University of Alaska Anchorage, Combat Climate Change Club
Research Institute for Sustainability – Helmholtz Centre Potsdam
Acupuncture and Integrative Medicine College
Middlebury College
University of Nebraska Omaha
Centro ODS
Universidad de Los Andes
Centro de Investigación de la Universidad del Pacífco (CIUP)
University of Adelaide and University of the Third Age
Tanay Mountaineers
AUCA
University of Oklahoma
Folsom Educational Academy
NYC DOE
Gustavus Adolphus College
Crescent Schools, Lagos
UI INTERNATIONAL MODEL COLLEGE
Parami University
African Child College, Abuja Nigeria
Kaimosi girls high school, Kenya
Ngora Girls'Secondary school, Soroti City, Uganda
Rhemaville Christian Academy
Makalamabedi Secondary Schools, Botswana
Kabulonga Boys Secondary School, Zambia
Green Acres Secondary School, Dar es Salaam
Crescent Schools
Crescent Schools
Green Acres Secondary School, Tanzania
Kabulonga Boys Secondary School, Tanzania
Makalamabedi Secondary School Botswana
Rhemaville Christian Academy, Jos
Ngora Girls Secondary School, Uganda
Kaimosi Girls' High School, Kenya
Abesan Comprehensive Junior, Lagos
African Child College Abuja Nigeria
UI International Model College
Arizona State Univesity
CIDES
SDSN México / UAM Azcapotzalco
Bard College Berlin
Institución Educativa julio Cesar Turbay Ayala
Kalamazoo College
Kuvuna Foundation DRC
Eureka Observatorio Ambiental
Universidad del Norte
Escola Adélia Crisóstomo
Climate Stories Project
Central Valley College Corps @ CSU Fresno
Christ Apostolic Church, Oke-Ayo (Hill of Joy) Iludun, Osogbo
University of Southern California
Kansas State University
University of Nebraska-Lincoln Environmental Studies Program
University
Fairfield University
Macalester College
AUCA
California State University Dominguez Hills
The University of the West Indies
Carson-Newman University
IEI Pakistan and AbadTak
Universidad EARTH
University of New Brunswick
Government Model Secondary School, Nigeria
Loreto College, Mauritius
Anima Educação
Comunidad #PorElClima
Climate Coaching Allaince
S.C.R.A.P. Gallery
Osh American Corner
Roosevelt University
AUCA
Escola quilombola Adélia Crisóstomo
Institute of American Indian Arts
University of Adelaide
Institute of American Indian Arts
University of Alaska Anchorage, Combat Climate Change Club
Research Institute for Sustainability – Helmholtz Centre Potsdam
Acupuncture and Integrative Medicine College
Middlebury College
University of Nebraska Omaha
Centro ODS
Universidad de Los Andes
Centro de Investigación de la Universidad del Pacífco (CIUP)
University of Adelaide
University of Adelaide and University of the Third Age
Temple University Office of Sustainability
Al-Quds Bard College
Universidad Loyola/ Fundación ETEA
Worldwide Teach-In for Climate PH
Essca school of management
Universidade Federal do Tocantins
Universidad San Francisco de Quito
Universidad EAFIT
vcuarts|fashion
Witten/Herdcke University
Mountain Province State Polytechnic College
Towson University
Institute of Sustainable Energy and Environment, Green Action, and VCU Library
Belmont University
Brandeis University
Center for Environmental Justice at Colorado State University
OB Christian Community School
Worldwide Teach-in PH
Our Lady of Fatima University
YouthStrike4Climate
University of the Philippines Baguip
Kpop Stans for Good Governance
Our Lady of Fatima University
The Climate Reality Project Brasil
American University of Central Asia
Loaves & Fishes
WORLDWIDE TEACH-IN Partners