Model Teach-In for Colleges, Universities, HS
The Key to Success: Faculty Involvement
This model three-hour teach-in is designed to maximize student engagement by maximizing faculty involvement. It is EASY TO ORGANIZE-- really-- a team of 2 or 3 faculty/staff/students can get it done it in a few hours. The idea is a series of concurrent panels in which climate concerned faculty from multiple disciplines each talk for five minutes about climate change from their disciplinary perspective. Using this model, it is easy to get more than thirty faculty participating, and that means hundreds of students engaged in serious dialog about climate solutions. For a detailed explanation see this video, and read on below. For additional detail, please download our Teach-In How To. .
Faculty do not need to be climate experts, as their job is just to speak for 5 minutes from their disciplinary perspectives and then help lead discussion. Very little prep, and an opportunity for them to help drive climate dialogue. Climate-concerned faculty will be glad to have been asked.
The three-hour teach-in is just a starting point.: please get creative! If your team has the bandwidth, make this an all-day event featuring music, art and educational displays about campus sustainability, regional climate solutions, and justice in the transition. Bigger events can involve thousands of students-- and we need to do that. The three-hour teach-in can be adapted for high schools and middle schools. Below find models for other grade 7-12, K-6, and faith-based teach-ins.
Sign-Up With Your Intent to Hold a Teach-In Today!
Your event will then appear on our interactive map. You don't need to have any specifics or even a confirmed date. You can add full event details later. For now, just plant your flag and let others know there will be an event on your campus or in your community on or around 3/30/22. The Teach-In will start to go viral when people see events popping up all over the world-- please do sign up today!
Organizing The Three-Hour Teach-In
Here is the structure, followed by the three steps to organize a high-impact Teach-in. As soon as practical, please register your teach-in on our interactive map so that volunteers who want to help can find you.
Group Welcome: 15 Minutes. Includes a 5-minute video from the WorldWide Teach-In
Hour 1: Panel 1 Panel 2 Panel 3 Panel 4
Hour 2: Panel 5 Panel 6 Panel 7 Panel 8
Hour 3: Concluding Panel or Activity: What My School or Organization Can Do
Step 1: Select your faculty panels from the list below. Modify as needed. Four panels per hour means 32 faculty panelistts and 8 student moderators. The more more faculty panelists, the more students will be required/inspired by faculty to attend. Recruit students to moderate the panels. Your teach-in will be attended by hundreds of students, many of whom would not nornally attend a "climate event".
Step 2: Brainstorm the climate-concerned faculty from across your school. Match them with the topics in the panels. Send them an e-mail invitation. 95% will say yes! They only need to speak for 5 minutes-- very little prep-- and then lead discussion. They will be excited to participate.
Step 3: Reserve your rooms. Use the templates for sample posters, programs and email ads that we will provide. Starting March 1, 2022: Promote.
DONE! Note there is no need to invite external experts, which makes organizing the event much simpler. All of the participants can be internal, building energy for further climate engagement at your school. Also, Presidents and Deans will love this event: it is very rare to have this kind of institution-wide interdisciplainary dialogue. So take credit for that.
Sample Panels
SESSION 1 (First Hour)
1. Climate and Justice 2. Climate Science: What You Need to Know
Moderator: Student Moderator: Student
The Green New Deal, Economics Faculty Is it Too Late? Physics Faculty
Climate & Global Inequality, Politics Faculty Climate and Water, Environmental Studies Faculty
Climate Dividends: Where Should the Revenue Go?, Politics Faculty Local Impacts, Biology Faculty
Investing in Our Communities, Sociology Faculty Responding to Skeptics, Physics Faculty

3. Winning the Story Wars 4. Climate Solutions, Global Perspectives
Moderator: Student Moderator: Student
Climate Stroytelling, Film Faculty Roundtable with four Faculty representing
Communicating Science & Solutions, Communications Faculty different country perspectves
The Case for Stewardship, Philosophy and Religion Faculty
A Finer Future is Possible, Environmental Studies Faculty

SESSION 2 (Second Hour)
5. Climate Solutions, YOUR COUNTRY 6. Dealing with Climate Depression
Moderator: Student Moderator: Student
University Climate Commitment, Chief Sustainability Officer Artists Respond to Climate, Arts Faculty
State or City Climate Policy, Local Expert on Faculty Moving Beyond Avoidance, Psychology Faculty
The National Politics of Solutions, Politics Faculty Mourn, then Organize, Sociology Faculty
YOUR Country and the UNFCCC, International Relations Faculty Writing about Climate, Literature Faculty
7. Cities and Climate 8. Climate Solutions, Energy, Agriculture, Forests
Moderator: Student Moderator: Student
Summer in the City: Heat Waves, History Faculty The Solar+Storage Revolution, Business Faculty
Cities and Sea Level Rise, Anthropology Faculty Regenerative Agriculture, Biology Faculty
YOUR CITY Tackles the Climate, Local Expert on Faculty Protecting Forests, Biology Faculty
Reimagining Cities, Architecture Faculty Electric Vehicles Everywhere: How Soon?, Business Faculty

CONCLUDING PANEL (Third Hour)
What We Can Do
Moderator: Environmental Studies Faculty
Rise-Up, Student
Vote, Political Studies Faculty
Organize, Sociology Professor
Educate, Dean of Civic Engagement
Entrepreneur, Business Faculty
How YOUR SCHOOL Can Lead, Chief Financial Officer or President
ALTERNATE IDEA FOR CONCLUDING PANEL (Third Hour)
Host a screening for the Teach-in Participants of your regional "Global Dialog". This is a university-hosted webinar from your region featuring climate experts, indigenous voices, and youth activists, talking about ambitious climate solutions relevant to your audience. OR, show the Global Dialog the the night before, or earlier in the day. For more on the Global Dialogs, see below.
Additional Panel Ideas
Food Systems, Climate Solutions Solve Climate, Advance the SDGS
Moderator: Student Moderator: Student
Food Justice and Climate, Sociology Faculty #5 Gender Equality, Sociology Faculty
Transitioning to Regenerative, Economics Faculty #14 Life Below Water, Biology Faculty
Plant Rich Diets Cut Carbon, Science Faculty #10 Reduced Inequalities, Economics Faculty
Composting/Biochar, Biology Faculty #12 Responsible Production and Consumption, Business Faculty
Sample Poster and Program from 2020 Three-Hour Teach-In at Bard College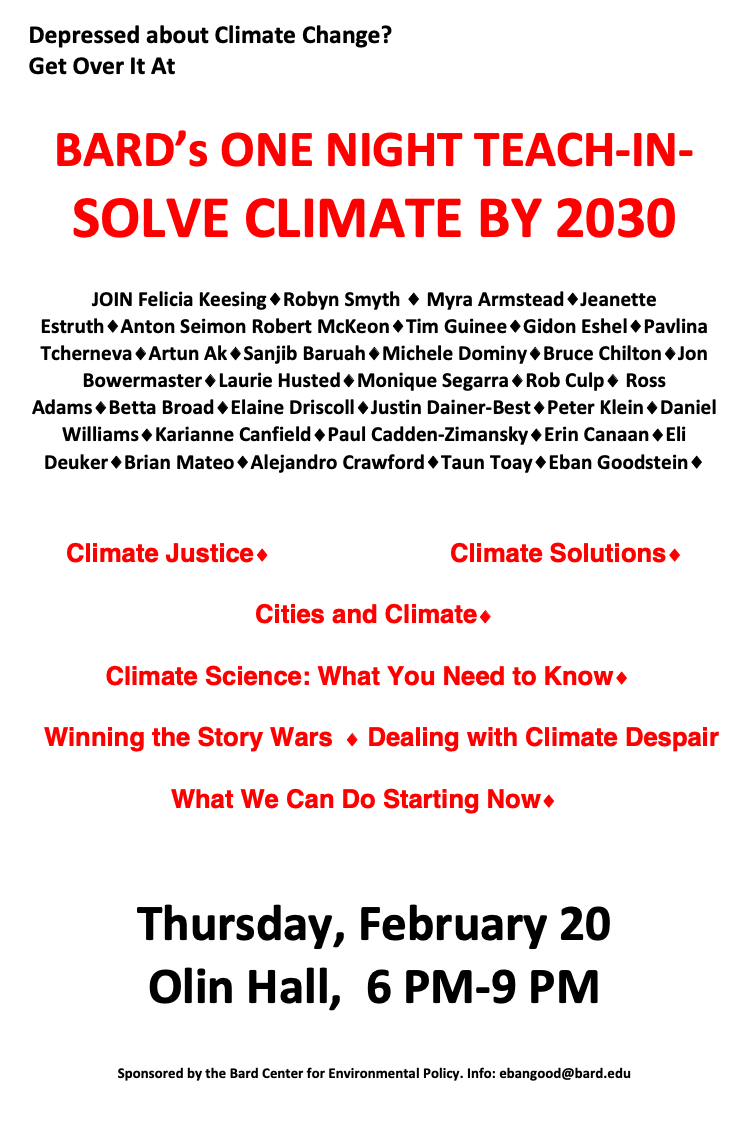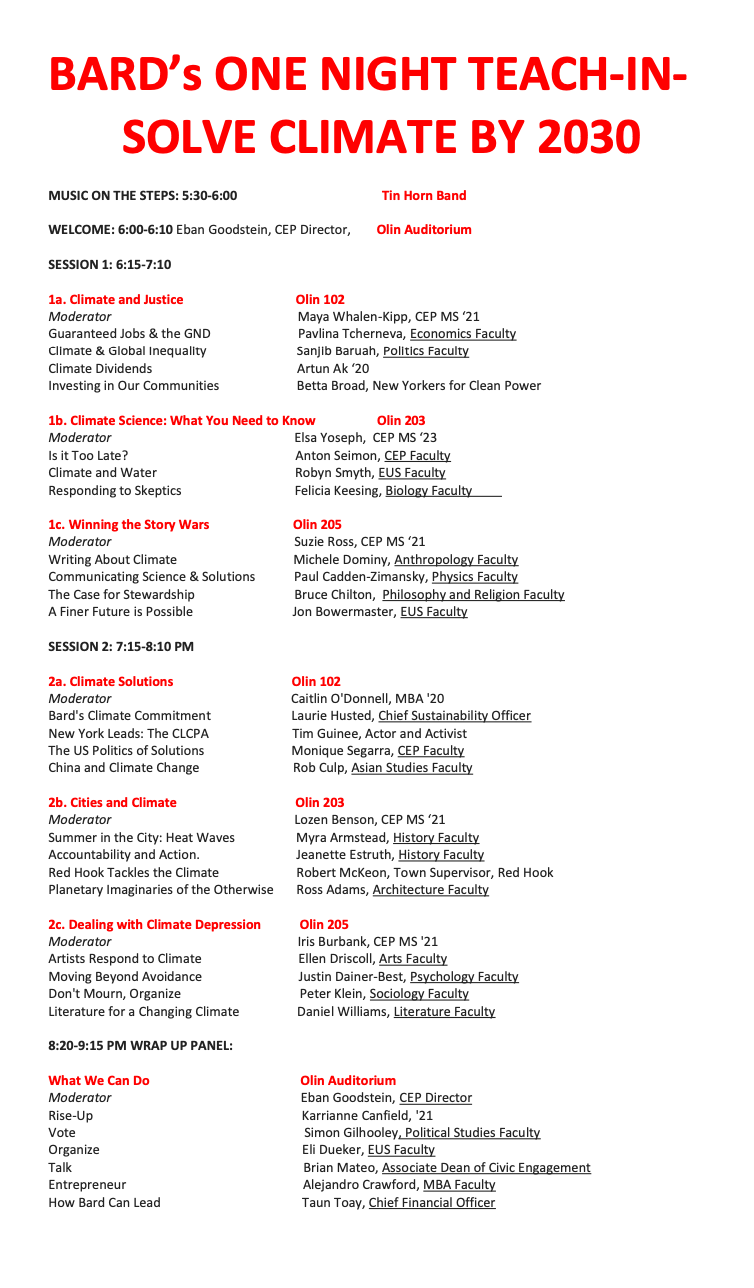 Global Dialogs: Climate Videos in Many Languages
The Three-Hour Teach-In is easy to organze since you do not need to invite any outside experts. The Global Dialogs in turn make it easy to engage your student with climate experts from your region and in your language. These are University-hosted webinars featuring climate scientists and policy-makers, indigenous and community leaders, and student activists. Here are the recorded webinars from April 2021. To view the 2021 locations, click on the map to the left. You can screen these at no cost as part of your teach-in- either as the concluding panel, or as a pre-event earlier in the day or week.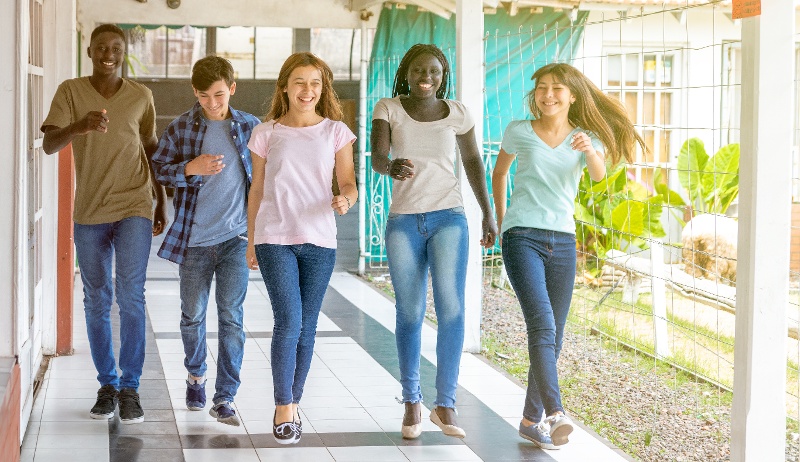 More Teach-In Models: Grades 7-12
What would a three-hour after school or evening teach-in look like for a high school or middle school? See the model below. Note on Timing: The Teach-in can be on or around March 30; it could be a week later or earlier. If the teach-in is earlier, students who want to do more can attend their local college teach-in on March 30th.


Sign-Up to Hold Your Teach-In Today!
Your event will then appear on our interactive map. You don't need to have any specifics or even a confirmed date. You can add full event details later. For now, just plant your flag and let others know there will be an event on your campus or in your community on or around 3/30/22. The Teach-In will start to go viral when people see events popping up all over the world-- please do sign up today!
We also have suggestions HERE for one-hour Teach-Ins, including lessons and videos about global warming solutions in multiple language from universities around the world.
Organizing The Three-Hour Teach-In (High School / Middle School)
CORE PRINCIPLE-- Make the Teach-In very interactive. Limit one-way information delivery to 10 minute videos or 5 minute talks. The student participants leave excited and energized to learn and do more. For the Teach-In Discussions, enlist faculty, staff, alums, parents and community members to serve as small group leaders.
In advance-- Have students do posters/artwork or create music illustrating their thoughts and feelings about climate change. Put these up on display at the venue. (and/or create a slideshow of these images)
Tip-- Screen the Climate Solutions Video from your region of the world found here. There may be several 5-10 minute segments that would complement the sessions below.
This is a suggestion for a fun, easy to organize and engaging event. For more ideas, see this page. Get Creative!
WELCOME
6:00-6:10 PM Entire Group. Includes 5 minute video from WorldWide Teach-In. Begin with a welcome and local introduction.
FIRST HOUR: Why Are We Here?
6:10-6:30 PM. Entire Group. Intro Panel (Two Faculty, Principal, Two Students, Student moderator): What is the first thing that comes to your mind when you hear the words "climate change"? What would you like to know more about? On a big piece of paper, next to each person's name, write their answers to the two questions.
--Before breaking into groups, show:
NASA's Earth Minute: Gas Problem (1 minute) video
Be Courageous (3 minute) video. (ADD LINK)
6:35-7:05. Small Groups. All participants answer the same two questions, followed by discussion that could include partial answers to some of the questions. On a big piece of paper, next to each person's name, each small group moderator writes their answers to the two questions. Local Teach-in Organizers commit to summarizing "what comes to mind" and answering the climate change questions via a follow-up email after the conference.
7:05-7:15 PM Break
SECOND HOUR: Just Climate Solutions
7:15-8:00 PM Small Group Discussions (two sets of 30 minutes) around some of the JUST SOLUTIONS topics such as:
Solar Power
Reducing Food Waste
Just Transition: Frontline Communities
Just Transition: Who gets Green Jobs and Green Tech?
Local actions - what is happening in your community and how can students be involved?
Regenerative Agriculture
Urban Agriculture
Story-Telling and Climate Communication
Circular Economy Business Models
Circular Economy Consumption: Reduce, Re-Use, Recycle
Protecting Forests
Artists, Film-Makers and Climate Change
Religion and Climate Change
Electric Cars and Trucks
How Batteries Help Solve Climate Change
Farming the Ocean-- MORE HERE
Optional:

Introduce this discussion by showing

Unit 2 of Drawdown

, Minute 12:15 to 16:20





8:00-8:10 PM Break

THIRD HOUR: What We Can Do

8:10-8:50 PM Small Groups. Careers and Action to Solve Global Warming.

Have several breakout rooms including brief presentations/demonstrations about climate careers, climate-solution college majors and programs or action by local colleges and universities, non-profits or businesses working on climate solutions. Include three presenters in each room, with 5 minutes each for presentations/demonstrations. Appoint student+faculty moderators to prepare questions for the presenters or activities for the audience.

Alternative (but more work): organize a climate justice education, careers and action fair where local colleges and universities, businesses and non-profits have tables around a large space where students and parents can visit, ask questions and get information.

Before the break, have post-its on the wall that ask two questions: What is one thing I learned tonight? What is something I can do to solve global warming I had never heard of before? Give people five minutes to write their answers. Teach-in Organizers commit to summarizing the responses via a follow-up email after the conference.

Option for middle schools: show and discuss Young Voices for the Planet film about 3 eleven-year olds who help get solar on their school roof.

8:55-9:15 PM Entire Group.

Show the WorldWide Teach-In Concluding Video featuring youth voices from around the world (5 minutes). End by encouraging participants to attend local Earth Day events. If the Teach-In is held before your local University Teach-In, encourage students to attend that event.

DONE!
More Teach-In Models: Grades K-6
The WorldWide Teach-In is currently working to develop an in-school model for an interactive K-6 teach-in. While there are lots of good climate education resources for the classroom (see here and here), we have not found an actual teach-in model. We will have a draft version up by October 15th. Please send your ideas to solveclimate2030@gmail.com!